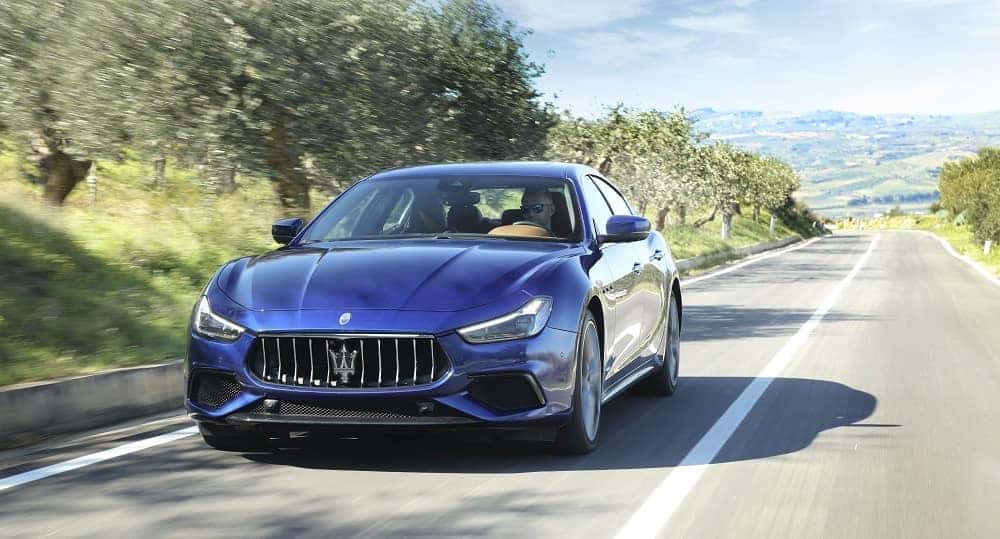 Luxury Car Lease Deals
For those that seek an outstanding driving experience, some car brands outshine all the rest. With a great range of exceptionally crafted vehicles on offer, Maserati produces some of the most sought after models on the market. With class and style built into every corner and contour, these impressive cars and SUVs speak volumes before you even open the driver's door.
So where can you turn when you need the premier Tampa Maserati dealer? Make the trip over to see the exquisite collection of new vehicles on offer at Maserati of Central Florida. We work hard to cultivate a terrific inventory of high-end vehicles. To meet and exceed the expectations of our discerning clients, we strive to ensure that our selection of Maserati vehicles on offer is second to none. Our team of automotive experts is passionate about what they do, and they're ready and waiting to share their expertise with you. Our ultimate goal is to help each customer who comes to see us find their way into an exhilarating vehicle that they can enjoy for years to come. You can feel confident that you'll be bringing home a vehicle unlike any other. Have confidence, whether you're looking to purchase a particular model that we have in store – or select from one of our numerous Maserati lease specials.
Here at Maserati of Central Florida, we pride ourselves on offering outstanding customer service standards to each driver that comes our way. From the moment you step through our doors up until you're driving off the lot in a top-quality vehicle, you'll be treated with the care and respect that you deserve.
Ready to determine which of the exotic vehicles we carry is right for you? From the stunning Maserati Ghibli to the spacious and refined Levante – you'll be able to select the model that is the best fit for your wants and lifestyle. Whichever one you elect to bring home, you can rest assured that the professionals at our Tampa Maserati dealer will be here to support you throughout the life of your purchase.
Maserati Lease Specials
There's something special about each new Maserati that can be found on our lot. Maserati pays special attention to detail that goes into crafting each vehicle. You will love the impressive performance that you can enjoy behind the wheel. So there is plenty to get excited about. While many of our customers choose to buy their vehicles outright – we want you to know that making a purchase isn't the only way to get behind the wheel of a stellar new Maserati automobile.
At Maserati of Central Florida, we strive to offer versatility in what we can provide. That's why, in addition to our numerous vehicles for sale, we also offer Maserati lease specials that you can take advantage of to take home the model that you've had your eye on. Through our Maserati lease program, you'll be able to enjoy the brand-new Maserati car or SUV of your choice for a set period. Afterwards, you can easily upgrade to something newer when the time comes. This method is a popular option among drivers who enjoy having a different car to drive every few years.
When the time rolls around and your lease term has ended, making the transition to an even newer model is fast and easy. Just bring your vehicle back to us, and one of our dedicated leasing specialists will be able to assist you from there. If you think that leasing could be the preferred course of action for you, we would be glad to discuss this with you at your convenience. You can give us a call at 407-667-4300 or stop by our dealership at a time that works for you. When you're searching for Luxury car lease deals or Maserati lease specials, look no further than Maserati of Central Florida.
Maserati Ghibli Lease
Have you decided which of our exceptionally designed and crafted vehicles would be the right match for you? With such great choices to pick from, it can sometimes be challenging to decide. Allow us to shed some light on one of our most popular options. The Maserati Ghibli is no ordinary car. From its bold and exciting exterior design to it's refined and luxurious cabin, the Ghibli is a sight to behold – inside and out.
Throughout the interior, you'll encounter countless enhancements and exclusive features that elevate the Ghibli far above the typical sedan. Hand-stitched details and premium leather options all bring a sense of precision and elegance that other automakers struggle to capture. The Ghibli also features plenty of the latest technology options to help you make the most of the time that you spend behind the wheel. A spacious 8.4-inch touchscreen display occupies the center of the dashboard, offering quick access to all kinds of vital information. Apple CarPlay and Android Auto connectivity make it a breeze to connect your mobile phone. Those who enjoy listening to music on the go are sure to appreciate the 10-speaker, 900-watt Harman Kardon Premium Audio System that comes standard on Ghibli GranLusso and GranSport.
Of course, we have Maserati Ghibli lease models available to take home today, if that is your preferred course of action. By taking advantage of these Maserati lease specials, you'll be able to enjoy the new Ghibli of your dreams with greater freedom and less commitment. If you would like to come to see one for yourself, be sure to pay our Tampa Maserati dealer a visit. We would be delighted to assist you, however we can.