Maserati Lease Deals Orlando
Have you been thinking about looking into an SUV for sale in Orlando, FL? Although you might know that an SUV is a right fit for you, you might also desire luxury in an overall sporty package. There may be plenty of vehicles on the market right now, but none of them may be standing out to you. If you want to have a stylish vehicle that can make it a blast to drive around town, then a new Maserati SUV lease may be the right choice for you. If you want Maserati lease deals in Orlando, then be sure to make Maserati of Central Florida your next stop! You should be sure to check out the 2019 Maserati Levante, which is an excellent choice for those looking to have a balance between performance and functionality.
The first thing you'll notice about this new Maserati SUV is the GT-style fastback, which gives it an intimidating appearance. As much as you might be impressed with the exterior, you'll be even more excited to learn what's under the hood. This SUV for sale in Orlando, FL is equipped with a 3.0L V6 that's capable of busting out 345 horsepower. If you feel like you'd like a bit more power, there's also an optional 3.8L V8 which can give you a whopping 590 horsepower. Since you'll need finely-tuned handling to keep such a powerhouse of an engine under control, the new Levante comes with high-tech suspension.
As well as this, you'll find a new Maserati SUV lease can also conquer nearly any terrain thanks to its advanced all-wheel-drive system. Whether you're trekking through the snow or hitting the streets after rainfall, you'll have all the handling and power you could want. However, Performance is just one of the many things you'll be offered with a Maserati SUV lease. Inside of this vehicle, you'll find plenty of luxurious comfort for both you and your passengers. Although there's a level of refinement to the interior design in the new Levante, you'll be blown away by how seamlessly it fits into its sporty aesthetic.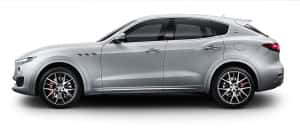 Fine Italian leather gives you both comfort and an eye-catching design that will be sure to impress anyone who gets into your Maserati SUV. Maserati also made sure to equip these vehicles with all the latest technology, ensuring you have a safe and more convenient ride. For example, the 8.4-inch touchscreen display gives you excellent control over your smartphone without having to get distracted thanks to integrated voice control. Even though this new Maserati SUV lease can give you a quiet ride, you'll find it's equipped with a 900-watt stereo system that will grant you an immense amount of volume.
When you combine all this with an available Safety and Advanced Driving Assistance System, you get a vehicle that's unmatched by others in its class. We even have plenty of Maserati lease deals in Orlando that can save you some serious money! Despite leasing being an already cost-effective option, you'll get some truly great offers just by signing some papers. In addition to Maserati lease deals in Orlando, you can save big by looking into financing one of these exceptional vehicles.
Luxury Car Lease
Have you been wondering about whether you should finance or lease a Maserati SUV? Although you can find advantages to both, it depends on your budget and lifestyle. For example, if you intend on driving a lot, then financing may be more suitable due to mileage restrictions when leasing. We might have plenty of Maserati lease deals in Orlando, but it would make sense to want to be the owner of a Maserati Levante Luxury SUV.
At the same time, you may feel like the process of applying for financing is daunting and overwhelming. Since it can be the most time-consuming part of owning a car, many people might lean more towards a Maserati SUV lease. Although it can be a bother to finance with other dealers, we work to make it simple here at Maserati of Central Florida! Our clients can save time by applying for financing right on our website in moments.
Once you fill out our finance application, we can let you know your interest rates and budget, letting you narrow down your options. If you're still having trouble trying to decide if you should finance or take advantage of our Maserati lease deals in Orlando, our Finance Center will be more than happy to work with you one on one. Making it a breeze to track down the right car isn't something that many dealers can offer. However, we do everything within our power to make sure you're satisfied and avoid any unneeded stress while shopping.
Whether looking into a used SUV for sale in Orlando, FL or looking into a new luxury car lease, be sure to make us your next stop! To help us fit into even the busiest of schedule, you'll find us open Mondays through Saturdays with flexible hours. If you're ready to move on from your current car, don't be shy and visit us today at 525 S Lake Destiny Dr., Orlando, FL 32810.