Maserati SUV for Sale
Interested in taking home a luxury vehicle that is a cut above the competition? If that's the case – our Maserati Orlando dealership has what you've been searching for. With a terrific lineup of high-end vehicles on offer – there is sure to be something in store that will catch your eye. We take great pride in carrying the latest Maserati SUVs and cars. Here at Maserati of Orlando, we strongly believe that Maserati vehicles can provide unforgettable driving experiences unlike any other.
Our team is dedicated to the pursuit of automotive excellence. In our vast lineup of cars and Maserati SUVs for sale, you'll find all sorts of compelling options. Maserati SUVs offer top-notch performance, impressive features, and undeniable style. What makes our Maserati vehicles different from other luxury options? These exotic cars and SUVs are designed and built to the highest quality standards, in order to provide discerning drivers with years of fun and reliable experiences on the road. If you're looking for a high-end vehicle that is anything but ordinary, then a Maserati could very well be for you.
With so many incredible vehicles in stock – one might think that deciding which one to take home would be tricky. That's not the case at all at our Maserati Orlando dealership! You can easily browse through our complete stock of cars for sale on our website. Our team works hard to make sure that our online inventory is consistent with what you'll find on our lot and updated daily. That way, you can get a look at the latest additions from the comfort of your home or office! If you have questions, you can rely on our expert staff to answer them. Simply give us a call at 407-667-4300 – or better yet – drop by our showroom at 525 S Lake Destiny Dr, Orlando, FL! Our friendly staff will be happy to assist in whatever way they can. Our goal is to see you in a Maserati that you can enjoy driving for years to come.
Maserati SUV Lease
Purchasing an exceptional vehicle like a Maserati car or SUV brings with it many unique advantages. For one, you'll enjoy the pride that comes with owning one of the most sought-after performance vehicles on the market! However, not everyone cares to own the car they drive. Many drivers would prefer to drive one of the latest Maserati cars or SUVs for now, with the option to easily upgrade to something newer after just a few years. If this sounds appealing to you, then our Maserati SUV lease deals are an option you'll want to consider.
One of our most popular options is the Maserati Levante lease in Orlando. From the striking exterior design and finish to the performance-oriented drivetrain, this SUV is built to impress inside and out. Featuring a 3.0L V6 engine under the hood, the Levante offers a sporty and responsive driving feel whether you're blazing down the highway or navigating city streets. Step inside the spacious cabin, and you'll see why the Maserati Levante has become one of the most sought-after luxury SUVs to be released in recent years. The premium leather upholstery brings added comfort and refinement to the look and feel of the interior. With 12-way power-adjustable front seating, you'll be able to orient the driver or passenger seat to your exact specifications, ensuring a comfortable ride time after time.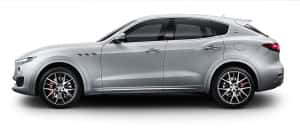 The 8.4-inch Maserati touch display will keep all of your most important information front and center. With Apple CarPlay and Android Auto – you can easily connect your preferred mobile device to play music, navigate, and much more. If you think that the Levante could be the right Maserati SUV to suit your needs and wants – we encourage you to come down to see it for yourself! While you can get a feel for what a vehicle can offer online – the only way to tell if it is right for you is to get behind the wheel.
Maserati Service Orlando FL
Exceptional vehicles deserve exceptional standards of service – so don't entrust the care of your Maserati to just anyone! Here at Maserati of Orlando, we have a state of the art Maserati service center. Our service department is equipped to handle the full range of service and repair needs that you might encounter over the life of your vehicle. With an expert staff of highly trained technicians, we're capable of providing outstanding standards of service in a timely manner.
Are you looking for genuine Maserati parts and accessories? Our parts department carries many of the most popular components to outfit Maserati cars and SUVs. If we don't happen to have what you need in stock, just let us know, and we'll be happy to order it for you. We can have it shipped directly to our service center, and you can schedule an appointment for a time to have it installed. Find out what countless luxury vehicle owners already know – that Maserati of Orlando is the go-to destination when you need excellent auto service in Central Florida.