Exotic Cars for Sale Near Me
These days, there is stiff competition to be found in the luxury sedan segment! Numerous automakers are putting their best foot forward to bring consumers powerful and refined vehicles with loads of features to enjoy. Out of all the luxury sports cars out there, the Maserati Ghibli and the Porsche Cayman GT4 for sale are among the most popular options. If you're trying to decide which of these models offers the better value and set of enticing features, allow us to help by laying out some important differences that you will want to keep in mind. After all, purchasing an exotic car for sale near you is a major investment – so you'll want to be armed with pertinent information in order to make the right call.
For many shoppers who are looking to take home a luxury sports car, driving power is at the top of the list of concerns. This is understandable. After all – more power at your disposal can often translate to a more enjoyable driving experience, especially on the long stretches of highway that we have in Central Florida! So which of these models comes out on top? With a maximum of 345 horsepower, the Maserati Ghibli edges out the Porsche Cayman by a considerable margin. The Cayman, in comparison, is only able to provide up to 300 horsepower. When you're looking to bring home a sports sedan that puts performance first, it would seem that the Maserati sports car is the clear winner. Of course, performance isn't the only vital aspect to consider when comparing two exotic cars for sale near you! Read on to discover other ways that the Maserati Ghibli and the Porsche Cayman GT4 for sale stack up.
---
Available Interior Features
As important as top-notch performance might be, it can only take you so far! Equally important is the experience that a vehicle can provide for the driver and passenger riding inside. High-end models like the Maserati Ghibli and the Porsche Cayman feature upscale interiors that add numerous comfort, technology, and entertainment options to help you maximize your enjoyment on the road.
The Porsche Cayman is outfitted with leather upholstery, a sports steering wheel, and other luxurious touches to enhance the driver's day to day driving experience. The Maserati Ghibli boasts hand-crafted interior components that lend character to the elegant and spacious cabin. Below you'll find a comprehensive list of interior options that can be found on the Maserati Ghibli and the Porsche Cayman, respectively.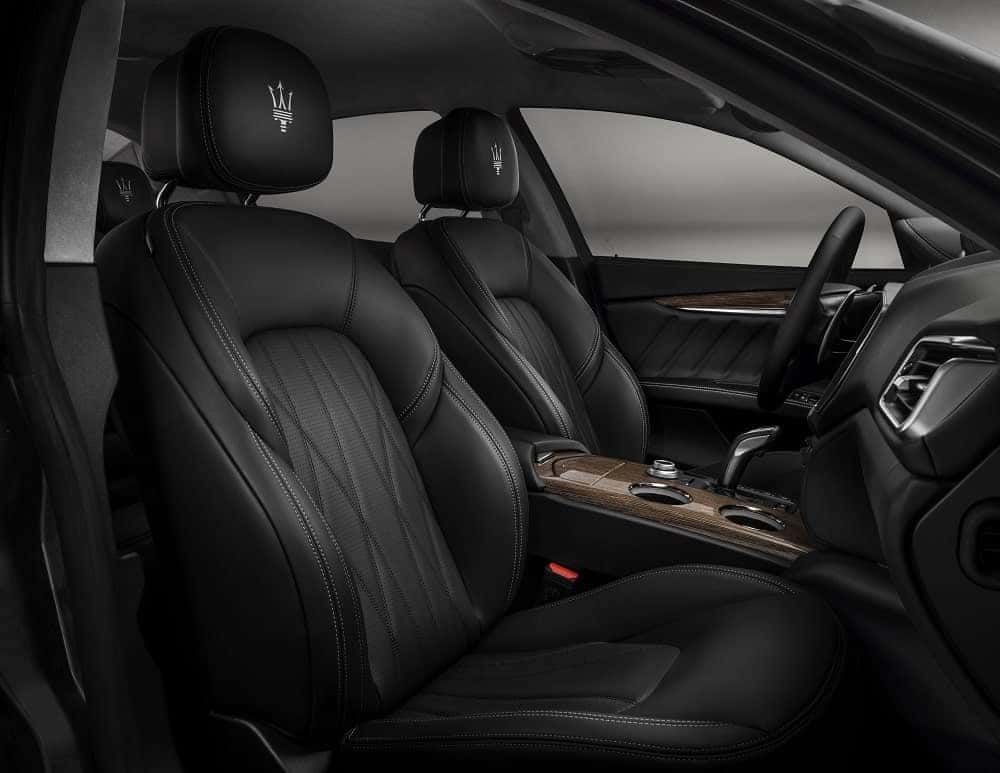 Maserati Ghibli
12-way memory power front seats

Trident embossed or embroidered headrests

Premium interior upholstery options include perforated leather, Pieno Fiore natural leather or Zegna silk upholstery

Trim options offer a choice between high-gloss carbon-fiber twill or high-gloss Rovere wood veneer

Maserati Touch Control Plus (MTC+) 8.4-inch multi-touchscreen display with center console rotary control

10-speaker, 900-watt Harman Kardon Premium Audio System standard on Ghibli GranLusso and GranSport
Porsche Cayman
Padded Sports Seating

Optional BOSE surround sound system

Porsche Communication Management (PCM) System works with 7-inch touch screen

Instrument Cluster with a 4.6-inch screen

Leather and Alcantara steering wheel and seating
As you can see both, vehicles offer impressive features on the inside to add to your everyday driving enjoyment. We hope that seeing things laid out side by side makes it easier for you to select the model with interior features that speak to your needs and wants. Keep in mind, there is plenty more to discover about the Ghiblis lavish interior than could be listed here. It's filled to the brim with the latest cutting edge technology and desirable features!
---
Vehicle Price and Value
A large part of the decision between vehicles can come down to the cost of purchase – but it is also important to consider the value that each respective model brings to the table. Value in a car can stem from a variety of sources. It can come from the set of desirable features that the model includes, along with things like warranty coverages. Because of this, it is important to consider the vehicle as a whole when deciding whether a Maserati sports car or a Porsche option is right for you. To start, let's explore the comparative costs of the Maserati Ghibli and the Porsche Cayman.
The Porsche Cayman begins at $58,000 for the base trim level, while the Maserati Ghibli begins at $75,500. This is a significant price discrepancy, but it's important to note that the base model Ghibli packs a host of features that aren't found on the base Cayman. Additionally, the Maserati Ghibli has a far wider range of trim options, so you can select a configuration that includes the feature set that you desire. Additionally, the Ghibli includes a 50,000 mile/4-year powertrain limited warranty – the same that can be found on the Porsche Cayman.
Thinking that the Maserati sports car could be the preferred option for you? If so, head over to Maserati of Central Florida to check one out for yourself! We did our best to lay out all the things this model has to offer, but reading about it online is nothing compared to actually getting behind the wheel. Our dealership is located at 525 S Lake Destiny Dr, Orlando, FL. We hope that you'll drop by to pay us a visit!
---