Maserati Car Dealer Near Me
When you decide that the time is right to take home an incredible vehicle that can meet and exceed your expectations, do you know where to go? You deserve an exceptional dealership experience from start to finish when you're shopping for your next car – so don't settle for any less. Here at Maserati of Central Florida, our Maserati dealer near Tampa has a proven track record of turning prospective buyers into satisfied customers.
When you pay a visit to our Maserati Florida car lot, you'll be able to view a wide range of high-end luxury vehicles all in one convenient location. Your free time is limited. Why spend it all driving all across Central Florida when you can see all sorts of premium car options at our Maserati dealer near Tampa? We carry the complete range of new Maseratis for sale near you – so getting into the model that you've had your eye on should be fast and simple. Our Maserati Florida dealer makes it easy to research the various options available to you. We want you to enjoy selecting the one that is the best fit for your needs and wants.
Our website and our Maserati dealer near Tampa are both set up to make researching vehicles simple and enjoyable. But sometimes, you can benefit from some one-on-one assistance. This is where our passionate staff comes in. Our luxury car experts are supremely knowledgeable about all the different models that make up our inventory. They'll be happy to share that knowledge with you. This way, you can decide on a vehicle that will keep you happy on the road for the foreseeable future. You can reach a friendly member of our sales staff over the phone by giving us a call at 407-667-4300. Of course, you can always drop by our Maserati Florida showroom to speak to someone in person! Here at Maserati of Central Florida, our goal is to provide you with a memorable shopping experience so that we can earn your business for years to come.
Maserati for Sale Near Me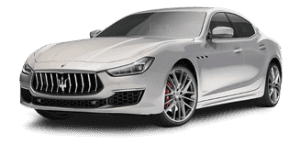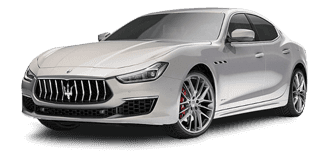 For those who are passionate about high-end cars – few auto brands hold the same level of prestige as Maserati vehicles. Whether you're looking to bring home a sleek and sporty luxury sedan or a premium SUV with ample interior space, choosing a Maserati for sale near you is a surefire way to get into a car that you'll enjoy for years to come. You might be wondering which one of our new Maserati models will make the ideal match for you. This is exactly what we're here to help you determine.
To select the Maserati Florida option that will bring you the most satisfaction, you'll need to consider what your requirements for a vehicle might be. Some drivers might prefer an agile and powerful car, while others would feel more at home with a high-end sedan with a robust drivetrain and plenty of interior features. If a sedan is what you're looking for, then you won't want to miss the new Maserati Ghibli for sale right here at our Tampa area Maserati dealer.
The Ghibli is an impressively designed and built vehicle, inside and out. The striking exterior design draws you in with its bold curves and contours, giving the Ghibli an unmistakable presence on the road. Once you're actually inside the vehicle, you'll find an elegant and upscale cabin. The interior is outfitted with many premium touches to remind you that you're driving one of the most sought after sedans on the market. Under the hood, the 3.0L V6 offers a responsive driving experience with plenty of power to show. Whether you're traversing Central Florida highways or running errands around town, you'll have ample horsepower at your fingertips to have fun on the road.
Maserati Service Central Florida
Taking proper care of your vehicle is important for any car. However, this is especially true when it comes to high-end luxury cars like the ones we carry at our Maserati Florida dealer. These vehicles are finely tuned driving machines that require expert care and attention to perform at their best. Not every service location is able to provide the stellar service standards that Maserati vehicles need in order to thrive! So where can you turn when you're looking for auto service and repair that you can trust for your favorite ride? Maserati of Central Florida is the answer.
Our Maserati Service center is equipped with everything needed to keep your vehicle running in top condition for years to come. With our factory-trained staff of Maserati technicians, you can be sure that your car will be in experienced and capable hands from start to finish. Whether you need a new set of tires, an oil change or some more involved repair work performed – our technicians are ready and waiting to exceed your expectations. When you're ready to schedule an appointment, doing so is easy! We have appointment times available throughout the week. This way, you can find one that fits in well with your busy routine.