Used Luxury Cars Florida
The holidays are approaching swiftly. It's the perfect time of year to buy yourself a present that you have always wanted. If you have been dreaming for years about owning your very own Maserati, visit Maserati of Central Florida. Our luxury car dealership is located in Orlando, making us accessible to customers across Florida. We have built a strong reputation in the community for our exceptional selection of new and used luxury cars in Florida.
Maserati of Central Florida has ample experience after decades of success in the exotic car industry. If you have had your eye on Maserati used near Tampa, our dealership is the best place to start looking. Customers outside of Orlando interested in Maserati used cars will want to browse our virtual showroom. Maserati of Central Florida lists each car that we offer for sale online. You can view our comprehensive inventory from the comfort of your sofa. Enjoy browsing through our outstanding selection of gorgeous Maserati models.
Is there a specific Maserati that caught your attention, such as the Maserati Ghibli? If you have a particular Maserati model in mind, don't hesitate to ask our dedicated sales team. Our sales staff is extremely informative about the nuances of these esteemed luxury cars. You are sure to benefit from their deep knowledge of the Maserati lineup. If you don't know exactly which Maserati model might be the best fit for your lifestyle, allow us to help. Our sales team will be happy to help guide you through the various virtues of different Maserati models.
We believe in empowering our customers with information. At Maserati of Central Florida, we want you to be confident that you are making educated decisions. You can expect customer service that exceeds your expectations at Maserati of Central Florida. After all, buying a luxury car should be a luxurious experience.
Maserati Certified Pre Owned Inventory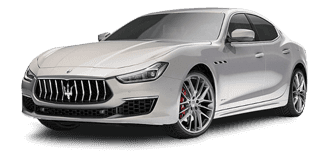 Are you attracted to the value of buying a pre-owned Maserati, but yearn for the amenities provided by a new car? If you are interested in manufacturer benefits for a pre-owned car, you will want to consider buying a Maserati certified pre-owned car. Certified pre-owned cars are used vehicles that have been selected by the manufacturer for additional benefits. These special, hand-picked vehicles must pass a rigorous inspection before being certified.
Not every used vehicle will qualify for the prestigious certified pre-owned program. There is typically an age limit for the vehicle, which varies by manufacturer. Also, the vehicle will undergo an extremely thorough inspection. These inspections often cover over 150 different points. This inspection is designed to examine every facet of the vehicle for any potential problems. If any issues are discovered during this inspection, they are repaired before the car is offered for sale.
Certified pre-owned cars come with a suite of manufacturer warranty benefits. This is a wonderful way for customers to get the benefits of buying a new car for the value of shopping used. You can invest in a certified pre-owned Maserati Ghibli with confidence, knowing that you will be under warranty coverage. Although all cars sold at Maserati of Central Florida are reliable and safe to drive, life is unpredictable. If the thought of an unexpected repair bill is unpleasant, consider a certified pre-owned Maserati Ghibli. Vehicles in our Maserati certified pre-owned inventory never lasts long at our dealership.
If you see a certified pre-owned Maserati Ghibli that strikes your fancy, don't wait too long to act! Customers flock from all sides of the state to shop our fabulous Maserati certified pre-owned inventory. Our sales team will be able to discuss the specifics of the various certified pre-owned packages with you.
Maserati Ghibli
Once you have selected the ideal exotic car from our Maserati certified pre-owned inventory, you'll need a service center. Keeping your Maserati running like the day that you brought it home is easy with proper maintenance. However, not all service centers are experienced in maintaining luxury vehicles.
When you need Maserati service, visit Maserati of Central Florida. We boast a quality luxury car service center, equipped with the most current tools and technology. Our service technicians have all been factory certified by Maserati to service these vehicles. An inexperienced service technician may inadvertently damage your exotic car during service. Place your cherished luxury sports car in the hands of true professionals at Maserati of Central Florida. Whatever type of service or maintenance you may require, our technicians can handle it. Our service technicians have ample experience performing routine maintenance. They are also experienced in major body repairs and diagnostics.
Schedule your services online to save time waiting around our service center. If you should require Maserati OEM parts, our dealership maintains a comprehensive parts library. If you need a part that we do not currently carry, just fill out a simple parts request form. Maserati of Central Florida can take care of all your luxury car service needs.